Type: both
Padding top: normal
Padding bottom: normal
Background: white-500
Hyde ballast water treatment systems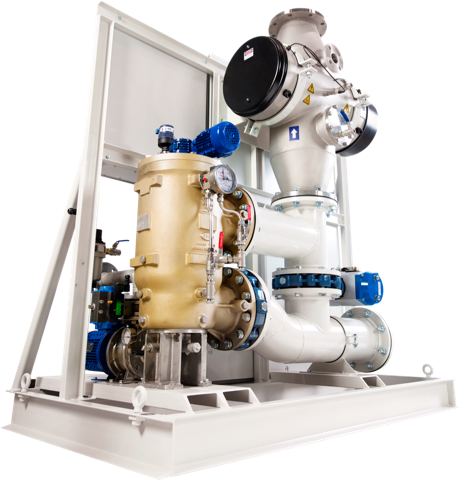 Around the world more than 10 billion tons of ballast water are carried in ships each year containing thousands of species of aquatic animals and plants. This creates problems for the marine environment and human health and threatens economies that depend on healthy aquatic ecosystems.
The Hyde Marine BWTS offers an effective and reliable solution based on solids separation and UV irradiation. The Hyde Marine system utilizes existing ballast pumps and piping. Standard systems are available for flow rates from 60m3/h up to 1500m3/h and customized systems up to 6000m3/h.
Type: multi
Padding top: normal
Padding bottom: normal
Background: white-500
Onboard Technical Support
Transvac, Hyde BWT Service engineers are fully trained service professionals and will mobilise direct to your vessel. Each technician will have a complete history of your equipment and will come with all the information, learnings, and special equipment that may be needed to match the unique GUARDIAN system installed on your vessel. Our Technicians are based in the UK but can deploy globally, depending on availability.
Our engineers / technicians are fully qualified to work on both Commercial and Military Vessels Worldwide. They are also OPITO BOSIET certified to enable mobilisation to Offshore Platforms and CONDO trained for Military Deployment.
Remote Support
Transvac, Hyde BWT Service engineers offer remote support for those easy-to-address issues that often come up. Our available service professionals can walk crews or shore-based personnel through the steps of how to troubleshoot, repair, or even upgrade equipment that may be necessary throughout the life of the system.
Aftersales Support
After Sales support plays an invaluable role within our organisation, from the implementation of a product solution, to the maintenance of the product onsite, as well as providing a wide range of Hyde BWT OEM spare parts. Transvac maintain a dedicated team of engineers and personnel that are focussed on providing after sales support for all its products, services and solutions.