Air Admission Valve
Type: both
Padding top: normal
Padding bottom: normal
Background: white-500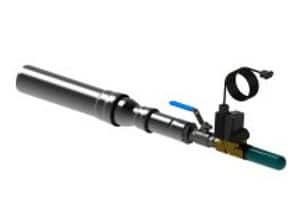 The Air Admission Valve is a fully automated device that can be permanently installed on the extreme end of problematic lines that are prone to flooding as a result of poor vacuum quality and regular blockages.
The valves are easy to install, unobtrusive, require minimal maintenance and are silenced to enable them to be fitted within accommodation areas.
Type: multi
Padding top: normal
Padding bottom: normal
Background: white-500
Design Features:
The Air Admission Valve includes the following design features:
Three standard sizes to suit DN40, DN50 and DN70 pipework interfaces.
Bespoke interface connections available on request.
A pre-programmed Air Solenoid Valve to suit either 240 or 110 volt power supply.
A Fitted silencer and shut-off valve to enable installation in accommodation areas.
Installation:
The air admission valve includes a solenoid valve which is programmed to open for a pre-determined time and frequency (Note! factory pre-set is 20 seconds every 3 hours which is adjustable).
On each opening event, the valve will admit between 60 to 100 litres of ambient air which will enter the vacuum main via pressure differential and effectively purge the line by pushing the liquid towards the vacuum collection plant.
The regular purge of air will keep the internal bores dry and will delay the potentially rapid buildup of calcination which reduces the vacuum reservoir leading to the operational failure of toilets and vacuum interface valves.
Type: cards
Padding top: none
Padding bottom: none
Background: white-500