Chemicals
Type: both
Padding top: normal
Padding bottom: normal
Background: white-500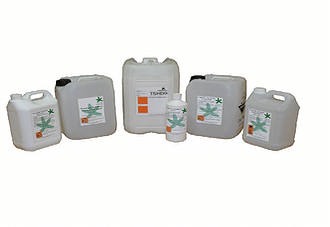 Transvac Systems supply Chemicals and Consumable Products to support the operation of Marine Vacuum Sanitary Systems. These products have been developed on the basis of experience and a continued demand from the market.
Type: multi
Padding top: normal
Padding bottom: normal
Background: white-500
Ram-Rod Heavy Duty Drain Cleaner:
Description: Ram-Rod is a powerful industrial strength alkaline drain and gulley cleaner that breaks down severe build up of fats and greases. The product is a low odor, solvent free agent which has a liquid gel consistency which provides a clinging ability and reduces the risks of splashing. The product is suitable for use in kitchens and food preparation areas. Supplied in 5 liter containers.
Directions: Wear rubber gloves and safety glasses. Pour Ram-Rod directly into the gulley or drain and leave to work until the fats, greaser and debris has dissolved or softened. Flush through with hot water.
Citrasolve 70 - Citrus Solvent Based Degreaser:
Description: Citrasolve 70 is a safe, economical, non-toxic degreaser based on natural solvents. The product is a heavy duty emulsifiable degreaser ideal for cleaning up glue, resin and bitumen deposits from machinery, tools, floors, drains, gullies and traps. Supplied in 5 liter containers.
Directions: Use neat to remove heavy soiling, dilute 1:5 for medium soiling and 1:10 for light soiling. Apply by brush or sprayer and leave work for a few minutes. Agitate stubborn deposits with a stiff brush and then rinse off with water. For cleaning fats and greases from drains and gullies, use neat then wash down with warm water.
Type: multi
Padding top: normal
Padding bottom: normal
Background: white-500
SD10 Phosphoric Acid Descaler:
Description: A powerful de-scaling agent which can be used to remove heavy calcination build-up which occurs in black and grey water mains serving both conventional gravity and vacuum sanitary systems. The product contains an 81% solution of phosphoric acid. Supplied in 10 liter containers.
Directions: Wear rubber gloves, splash visor and suitable overalls. The product is to be introduced into the vacuum toilet mains using a PiranhaVac acid injection unit (see instructions featured in Transvac's Products" Section). Fill the PiranhaVac's integrated 60 liter chemical tank witha 5:1 solution of water and acid, ensuring that the water is added to the acid. SD10 can be used to remove heavy ureaic deposits from urinal traps etc using small undiluted amounts and then flushed through with warm water.
TN10 Alkaline Neutralizer:
Description: TN10 is an alkaline neutralizer that can be applied to STP's and Vacuum Collection Plants after heavy scale chemical cleaning has been conducted on the sanitary mains. TN10 is administered to the plants in order to return the Potential Hydrogen (pH) back to previous levels to prevent any detrimental effect on the biological process. TN10 also includes a corrosion inhibitor to reduce damage occurring to ferrous and non-ferrous components such as pump impellers and casings. Supplied in 10 liter containers.
Directions: Take note of the pH levels in the STP or Collection Tank prior to the commencement of the acid clean. Monitor the pH levels on a regular daily basis whilst chemical cleaning is being conducted. As a guide, pH levels should be maintained between 5 – 9. TN10 is to be administered directly to the plant until the levels have been restored to previous values. Typically, 1 x 10 liter drum of TN10 Neutralizer is to be administered for every 2 x 10 liter drums of SD10 Phosphoric Acid used.
Type: multi
Padding top: normal
Padding bottom: normal
Background: white-500
Z111 Low Foaming Toilet Cleaner
Description: Z111 is an acid based, low-foaming toilet cleaner specifically designed for use in conjunction with marine vacuum sanitary systems. This product contains a blend of sulphamic acid, perfumes, corrosion and foam inhibitors. Z111 is safe to use on stainless steel and other bright-work. The product can also be used to remove limescale from shower-heads,taps, ceramics and vitreous china basins and toilet bowls etc. Supplied in 1 liter containers.
Directions: Wear suitable gloves and eye proteciton. Use neat as supplied and apply evenly over the surfaces to be cleaned. Leave for a few minutes, brush if necessary and then flush clean. Note!! Use sparingly as this product will not foam like standard cleaners when applied.
TSHD9
Description: TSHD9 is a biodegradable surfactant agent which is miscible in liquids and emulsifies the build-up of foam as and when it occurs, such as the introduction of chemical products that include foaming surfactants (such as toilet cleaners, shampoos and cleaning agents) into black water collection/hold tanks and/or wastewater treatment plants that use aeration as a process.
Directions: Wear suitable gloves and eye protection. Use neat as supplied. It can either be dosed manually onto the surface of the tank contents on a "Little and Often" basis, or automatically via a Transvac Antifoam Dosing Unit (or antifoam system built into a wastewater treatment plant.)
Type: cards
Padding top: none
Padding bottom: none
Background: white-500
Type: cards
Padding top: normal
Padding bottom: normal
Background: white-500